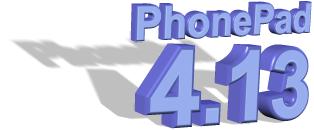 We're pleased to announce that PhonePad 4.13 has been released and is now available for download.? Version 4.13 has the following changes:
Fixed problem with sorting in Address Book list where lower case names wouldn't sort properly.
Fixed problem where double-clicking on the Address Book list wasn't opening an entry for edit.
User passwords are now masked in PhonePad Admin and administrators are now required to confirm passwords .
Disappearing envelope icons problem in Inbox message list has been fixed.
This a free update for all licensed clients.