We are pleased to announce the release of PhonePad 5.21.0 Server Update, which is available for immediate download.
Automatic Updates
The Automatic Server Update system has been completely rewritten to improve the update process.  A new, separate, Windows service has been created to handle automatic updating of your server whenever a new version is released.  You still have the choice to update manually or automatically.
Control Center
A new Control Center enables you to manage all of your PhonePad 5 Windows services from one place.
The Home or overview screen shows the status of all services at-a-glance.  In the screenshot, green shows that the PhonePad 5 Server service is running, red shows that the Auto Update service is installed but not running, and gray shows that the MessageSender service is not installed.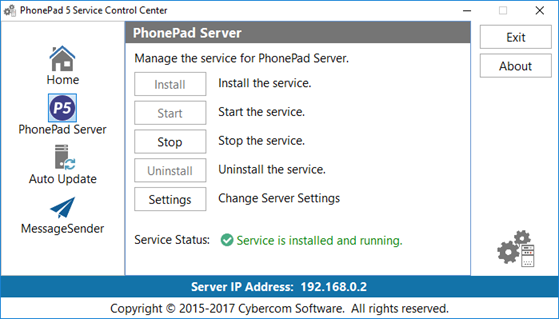 To manage a service, just select it from the list on the left, and then click the appropriate button.
Log Viewer
PhonePad keeps detailed logs of system processes.  These can be important for diagnosing and resolving any issues that you may experience.  As each PhonePad program maintains its own log it can be a little awkward individually accessing each one.
The new Log Viewer gives you a central point for accessing all of these logs.  It works on both your Server or Host PC, and workstations.
Logs are grouped by their location, ie. Server Logs and Workstation Logs.  Of course you can't view server logs on a workstation because they are located on the server.
If you get an error while using PhonePad but can't remember what the error message said so you can report it to Cybercom Software Support, do not despair as the error message is highly likely in the log files.
Even better is the built-in Support feature.  Log Viewer can collect all of your logs and email them to Cybercom Software Support.
By the way, the logs don't contain any sensitive data from your database.
Other Changes
ADDED – Timeout settings to WorkstationConfig.
FIXED – Error when sending a message with a single quote ( ' ) in the Subject.
FIXED – Error when re-sending a message.
Various minor fixes and improvements.
Please note: Server Updates must be installed on your Server or Host PC, not your workstation (unless your workstation is also the Host PC) – they cannot be installed directly on your workstations.  Make sure all users are logged out of PhonePad as the PhonePad Server will be stopped during the update and then restarted once it has completed.  Workstations will be automatically updated when PhonePad 5 Workstation is started on each workstation.
Important: When downloading and installing an update from your My PhonePad account, make sure it's actually the update and not the server setup program.  The update will update your database whereas the setup program will overwrite it with a blank database.
You can download the update from your My PhonePad account or by using the Application Update option on the System Admin menu in PhonePad 5.
These updates are available for both fully licensed users and trial users.
Please contact Support if you have any problems or questions.