If you are having either of these problems with your PhonePad then read on.
Connection Problems
If PhonePad has trouble trying to connect to your server then there are some things you should check.
Is the Service Running?
Run Control Center on your Server or Host PC and check the overview screen.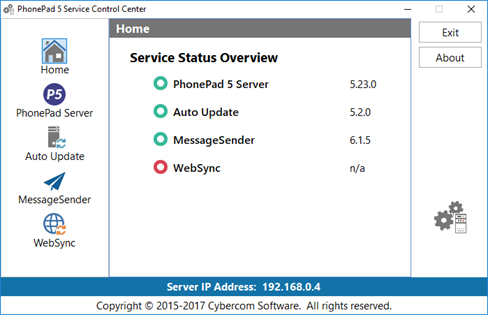 There should be a green status indicator next to PhonePad 5 Server.  If it's red then the service is installed but not running.  If it's gray then the service isn't installed.
If the service is running, try stopping and starting it.
Anti-Virus Software and/or Firewalls
When PhonePad is installed, firewall rules are automatically set up for the Windows Firewall.  Unfortunately many anti-virus products that have their own firewalls ignore these settings.
If your anti-virus software has its own firewall then you may need to configure it to allow PhonePad connections between your workstations and your Server or Host PC.  It will need to be configured to allow TCP and UDP communication on ports 12600, 12601, 12602 and 12603.
Port Conflicts
Although unlikely you may have other software running on your Server or Host PC that is using the same port numbers.  As only one application can listen on a port this will cause a problem.  This should show up in the logs.
Speed Issues
If PhonePad is running slow on your network then there are a couple of things you can check.
Anti-Virus Software
This is the number 1 cause of speed issues.  Many anti-virus products have some form of real-time scanning or monitoring.  What they're doing is checking a program when it runs, when it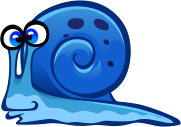 accesses a file, etc.
For most software this isn't a problem.  For example, if you open a Word document the time it takes for the anti-virus software to scan it is very small, maybe even unnoticeable.
However, with a database-based system where the data files can be accessed multiple times per second, the delay can quickly build up to several seconds.  And the more users accessing the system, the longer the delays become.
The recommended solution is to exclude the PhonePad 5 and PhonePad 5 Server folders, as well as the data folders, from real-time protection.  If that's not possible you may need to disable real-time protection altogether (that would be a last resort).
You don't need to exclude the folders from your scheduled virus scan though, just the real-time protection.  You can safely excluded the data folder as it doesn't contain any executables or DLLs.
One important consideration: try to schedule virus scans outside of business hours.
Message Checking
The next most common cause of speed issues is automatically checking for messages too frequently.  You will need to be logged in as a PhonePad Administrator to check this.
We recommend that you use the Dynamic Refresh option for message checking.  Whenever a new message has has been received for the logged in user, the notification will be pushed to the workstation.
If for some reason Dynamic Refresh is not working for you (please tell us if this is the case), you can use the alternative method which frequently polls the server for new messages.
But don't set the check time too low (ie. frequent) as this can slow things down.  Setting it to 30 seconds is good, 15 seconds if you really have to, but lower than that is not good if you have more than a couple of users.
What if you have done all of this and you still have speed issues?  It's then time to contact us and let us know so we can investigate it.